Solar Bikini is the geekiest beachwear ever and uses the sun as the primary source of energy for charging any other gadget like iPhone, IPod etc. with the help of a USB connector. It was designed by Brooklyn's Andrew Schneider. Since a digital device is an important part of the kit used in beaches, this solar bikini helps in keeping it charged all the time.
Solar bikini is capable of charging a smart phone or a media player while the person enjoys the summer sun. This amazing gadget consists of 40 thin and flexible strips made of photovoltaic cells connected by thread which ends at a USB port. The solar bikini is an unique innovation in the field of amazing gadgets and Andrew developed this idea in a brainstorming session at a interactive program in New York. He realized that with the help of photovoltaic technology it is possible and in no longer time he gave shape to this exclusive gadget.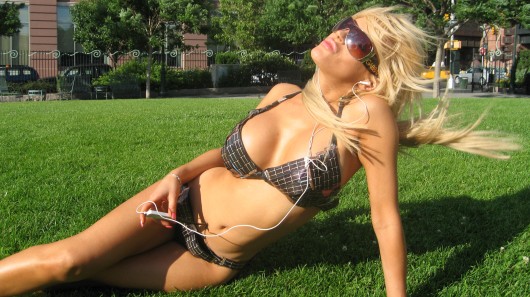 The solar bikini is good for charging music devices like iPod and smart phones and gives output like the USB port of a laptop. Since no energy is stored in the solar bikini, the user can go for a swimming wearing it. But there are some limitations in the use of solar bikini. Charging while going for swimming is not recommended. Once back from the dip, the solar bikini needs to be dried completely before it can be used for charging. Otherwise it won't function properly. Also the cost is very high for this type of bikini and it is a costlier solution for charging gadgets which can be a big drawback.
Despite of these limitations the people who want to spend a memorable time at the sunny beaches can find this gadget of great use and will not mind spending extra bucks on it.