Olaf Skateboard luggage scooter is the latest innovation in the field of luggage trolley scooters. This 4 in 1 pack offers high amount of flexibility in transferring you and your belongings to wherever you go. Olaf Skateboard luggage scooter has a fold-down scooter which helps the rider to scoot his haul along the floor. Two front wheels are combined with a single wheel affixed to the rear of the board.
When it is not feasible to perform scooting on the floor or the rider does not want to do so, then this scooter can easily be folded and can be worn on the back or the rider can pull it as a wheeled luggage. A great feature is that the scooter hardware can be separated from the backpack completely and the user can get a lighter comfortable pack and a scooter which is standalone.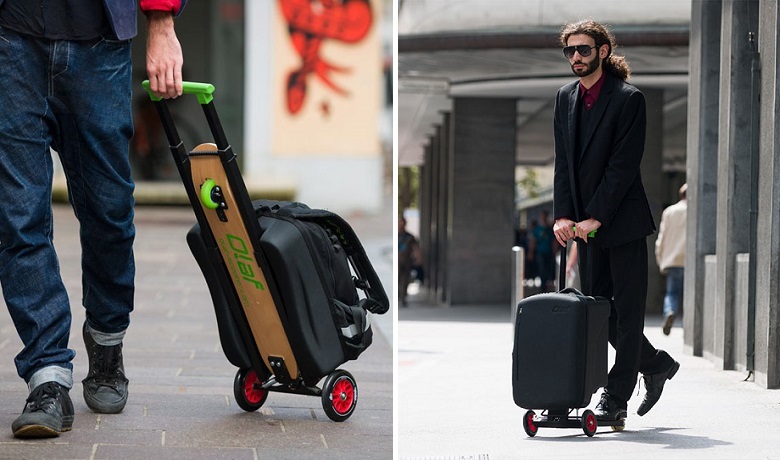 The greatest trick of Olaf scooter which separates it from other similar products is that the handlebar folds flat around the scooter platform and that transforms into a skateboard. It does not make you look flying but it is sufficient for you to wheel across the campus.
The price of this amazing gadget is set to be around 350 US dollars which is really steep in the range of scooter/board cum backpacks but if the company can bring the price down a bit, then this Olaf Skater board luggage scooter can be an interesting, multifunctional piece of kit and can find a great use when travelling with a lot of luggage and greater distances. Olaf is also trying to bring new versions of this gadget so that the customers can get more stylish packs with more utility.