Have you requested radar sense of the Daredevil or night vision as your super power? It has not come up yet? Don't worry. Now you can use your shopping superpower to achieve this effect. 3D Deco Superhero Wall Lights will help you to see in the dark and get this power of supervision!
Place the 3D Deco superhero wall lights wherever there is a requirement of little more light at night. They will provide a super glow and are battery powered. There is a wide range of wall lights with many types of superheroes like
• Captain America Shield
• Hulk Fist
• Hulk Head
• Iron man Hand
• Iron man mask
• Spider-Man hand
• Spider man head
• Thor Hammer
A background sticker comes with these 3D Deco Superhero wall lights and creates a feel that the item is breaking through the wall which is really amazing. For better looks, you can use a combination of them and create a better impression of the Superheroes. Here are the common product specifications of 3D Deco superhero wall lights-
• These are wall mounted and battery powered night lights
• Licensed merchandise
• Put them anywhere except outside
• The materials used are plastic and LED bulbs
• The package includes night light, crack sticker, 2 wall plugs and screws.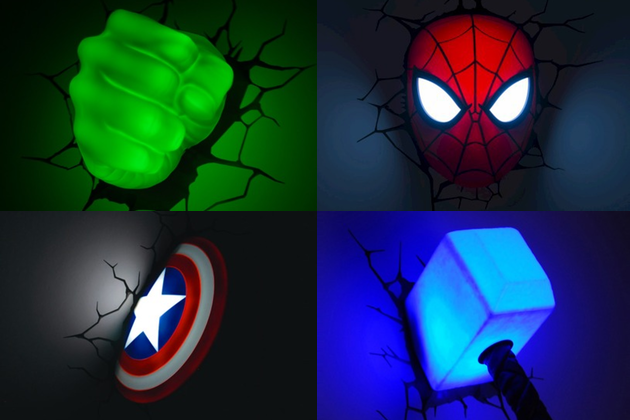 So get your superpower in your hands by buying one of these superheroes wall lights and fixing them in your home. You can use these 3D lights to welcome your guests with a surprise or making amazing themes for your parties. They can be a great idea for your room walls and can provide additional lights at the night time.