A canoe gives you remarkable clarity with the space for two persons. This crystal clear canoe is hard shell and transparent with hundred percent visibility. The weight of this canoe is only 40lbs and is very light then other aluminum and wood canoes. It also offers a motor mount as an option accessory with it.
If you love to see underwater then this clear and beautiful canoe is the best canoe for you. It has a high functional design and is made from same polycarbonate material which is used in the bulletproof glasses. It comes with repeal skeg system which improves tracking and makes possible paddling to long distance.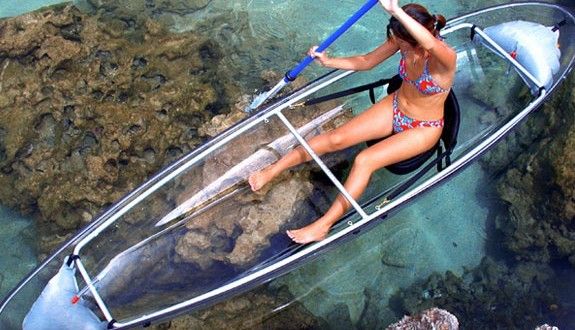 This canoe is not meant to paddle in choppy water out in the ocean, nor traveling long distances but it is an all purpose canoe. Its simple open design allows two people to sit comfortably and some gear. The width and flat bottom of the canoe makes it very stable, stable enough to stand up like a paddleboard. You can also add an electric motor with the optional motor mount. It is very easy to sail and can be handled by an inexperienced paddler.
This transparent canoe is very rough and tough and can handle a lot of abuse. The biggest question and doubt which will rise after hearing about its transparency is that can scratches affect the visibility? Of course, this canoe will get alt of scratches at the bottom but don't worry these scratches will fill in when you put the canoe on the water so they don't affect the visibility much. The point and thing you should take care of is that you should not get scratches on the inside of the vessel because this can affect the visibility. You should take your shoes off when you are in the canoe.