Summer is a boring and lazy season for many people whereas some people love to do outing and sporty things in this season. If you wish to do fun with your friends and make this summer more relaxing then Cabana Islander is great sport stuff for you. This cabana islander lounge is for your pool and patio. For sure, your life doesn't get much more luxurious then laying around the water in this incredible floating cabana islander lounge. In this cabana islander lounge you can easily float in water and soak up the sun.
If you consider other inflatable pool loungers, you will find this cabana islander the best among them. This cabana islander lounge can seats up to 6 people at a time and it is packed with ton of features including an inbuilt anchor system. It also has other features like a patented speed safety valve for a quick inflation and deflation and even a detachable wind resistant shade at top which is made up from nylon.
Furthermore, it also includes a centre swim porthole, a boarding rostrum and a floating cooler that can be hitched by grommet to the cabana islander lounge. This cooler includes zippered cover, cup holders, strand grommet and molded PVC.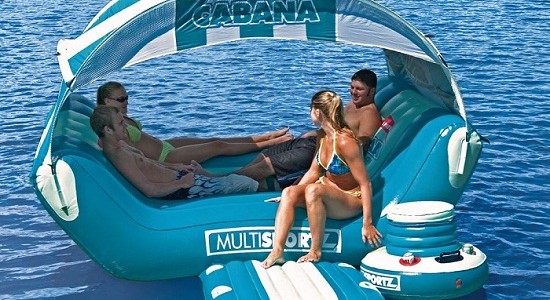 The price of this Cabana Islander is an affordable amount with only 300 bucks, at this price it is one of the best and affordable islander lounge out there. The weight of this Cabana Islander is 57 pounds and the size measures to 29*10*20 when deflated.
So, if you love water and want to make this summer more luxurious and relaxing then go order the cabana islander lounge today. This is the great sport stuff of this season and an ultimate way to spend the summer for everyone who enjoys the water.