Dogs have always been the best pet we can have. Dog is our best friend and our loyal buddy, they do a lot for us now it's time to show our love towards them. The best way to show how much we love them is building a custom dog house. Give your dog the best house of their own to live in.
Here is the procedure of building a modern geometric dog house:
• Step 1: Get supplies and tools
Purchase one fourth sanded plywood. You can also have 4 by 8 sheet of ¼ birch veneer plywood. Use 2x3s and 2x2s to make angled support blocks.
• Step 2: Pick a size
Cut the plywood in equal triangles. The size of the triangles should be about the same height of your sitting dog.
• Step 3: Measure, mark and clamp the two boards together
Measure off the triangles and then clamp the two boards together. The doghouse is made from equilateral triangles.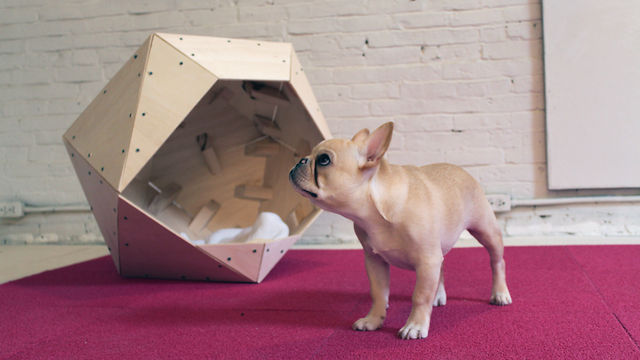 • Step 4: Cut the Plywood
When you have marked the triangle, then using the circular saw, cut the triangles.
• Step 5: measure and cut angled blocks
If you have big circular saw then set the blade to cut at a 42 degree angle and cut the blocks.
• Step 6: Sand the edges
Use a sandpaper to smooth down the edges.
• Step 7: Assemble
First, screw the angled blocks to the plywood triangles and then screw the pieces together.
•Step 8: Cut the pieces for the entry
Cut the plywood triangles in half to make the proper door way for the dog.
• Step 9: Add supports
Add in some additional wood blocks to strengthen the dog house.
• Step 10: Done
Congrats! You have created your own geometric modern dog house. Let your dog go in and check out its new home.