Tron fans will definitely fall in love with this damn sexy tron outfit. Well, wise shoppers know that while buying a gift you should choose something for the recipient that you would never like to choose to buy for yourself. For this purpose, this smoking hot 12-gauge clear plastic tron corset which is lined with glowing fluorescent piping is the best present.
This tron costume is made from PVC and it also glows in the dark. This sexy tron costume will start glowing after only 10 minutes of light exposure. But, it looks best and beautiful after it has been fully charged under a light for around maximum an hour.
You can charge it in sunlight or under a bright indoor lighting to achieve the neon blue color. This corset comes in only neon blue color and the longer you charge the more brilliant color you get. This killer costume is suitable for each and every occasion. Whether you are wearing it to the fancy dress party, a popping rave or out to any Halloween it is fit for all occasions. Throw away your Disney costume and get over to this sexy tron costume.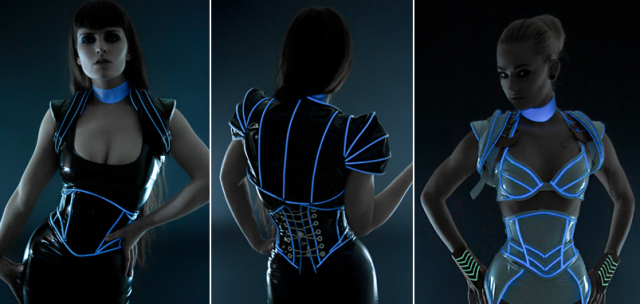 Specifications
The sexy tron costume is produced and formed with clear PVC. It has a piping all over the costume with a blue luminescent glowing trim which glows in the dark after being charged. The size of the corset measures to 24 inches and is suitable for a woman with 27 to 29 inch waist. This torn corset is functional also, constructed with steel boning which easily fits to the wearer's waistline. It fits to the body in such a way that it creates the perfect hourglass shape by boosting every lines of the body shape. Corals made it perfect to be worn in lounges and clubs.