Projector is a highly used gadget in the companies, schools, seminars and many more. Old versions of projectors are not much versatile, today with the growing technology we are habitual of getting some more in every new gadget. This NEC VE281 mobile projector is one of those new gadgets which come with the advanced technology.
NEC VE281 mobile projector is designed to provide high brightness for your small size to medium sized businesses, educational sectors, corporate conference rooms, seminars and mobility applications where heavy ambient light is present but the space of the room or place requires small projector. Actually, this is a portable projector and it satisfies all the needs which a professional projector does. This feature of the NEC VE281 mobile projector makes it worthy and the money you invest in it brings out the fruit for you.
The essential features which this light weight affordable model brings to you are it includes 3D ready technology, powerful 7W speaker and high contrast images. It also possesses automated technologies like auto power on and quick startup and quick shutdown. Its lam life is up to 6000 hours which makes it eco-friendly. This NEC VE281 mobile projector offers the intelligent driving scheme for increased lamp life and contrast.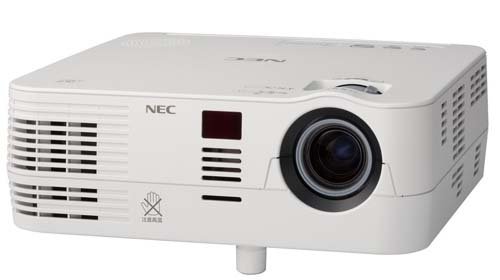 Other specifications of the NEC VE281 mobile projector are:
• Automatic power on through RGB input.
• Brilliant Color quality, including a 6 segment color wheel and provides accurate color production.
• Features like quick startup, shutdown and cooling minimizes projector setup and teardown between meetings.
• An ECO mode technology helps extend lamp life and reduces power consumption.
• Carbon savings meter works for calculating the positive effects of operating the projector in Eco mode.
• Its compact size and lightweight design made it protable.