LG brings in market its new revolutionary twin tub washing machine. Its twin wash system lets you to do two loads of washing at the same time. As announced, twin wash is a separate drawer which can be fit under any of the LG's front load washers. It can handle smaller and more delicate loads while the main machine works through an entirely different cycle.
When the mini washer is not in use it serves as the pedestal for the main machine. Moreover, mini washer is compatible with LG's Turbo Wash that actually sprays the concentrated detergent on to the clothes for supposedly faster cycle times.
To go along with the Twin Wash system of the LG, the company is showing off a number of various new features on their washers and the dryers. The EcoHybrid dryer of this machine recycles heat for a large increase in energy efficiency. This dryer also compliments its TurboSteam models which functions similarly to TurboWash as TurboSteam sprays steam directly onto clothes for faster cycles. This steam is supposed to help with wrinkles also.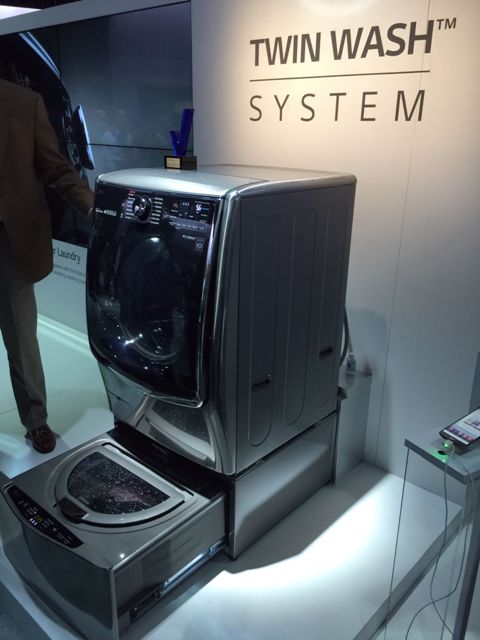 But, LG's new washers and dryers examined to have speed and efficiency down. It will be very interesting to see that these two simultaneous loads can turn out as well as washing them separately also. Washing two loads of clothes at once also pops the question of what to do with the second load when it comes to the time to dry.
In addition to the speed and efficiency of the machines, LG wants to stay at the cutting edge of connected technology with its washers and dryers as well. The feature of Wi-Fi compatibility allows each of LG's new washers and dryers to connect to its app for cycle alerts and easy programming.